that my BABY is now 12?  Today is his 12th birthday, and he reminded me this morning, "this time next year, you will have a TEENAGER in the house!".  Help me now!
Today, as I tend to do every year on my kid's birthdays, I look back at photos of them, and just wonder why in the world time is going so fast.  It seems that he was just born last week!  We were so young (didn't think we were young, but we were!), and really had no idea what we were in for.  My big boy.  He entered this world at a very large 12 lbs and 23 1/2 inches long.  Everyone commented about how big and gorgeous he was.  He seemed just the right size to me!  We brought him home from the hospital on Thanksgiving that year.  He was bigger than our turkey! LOL!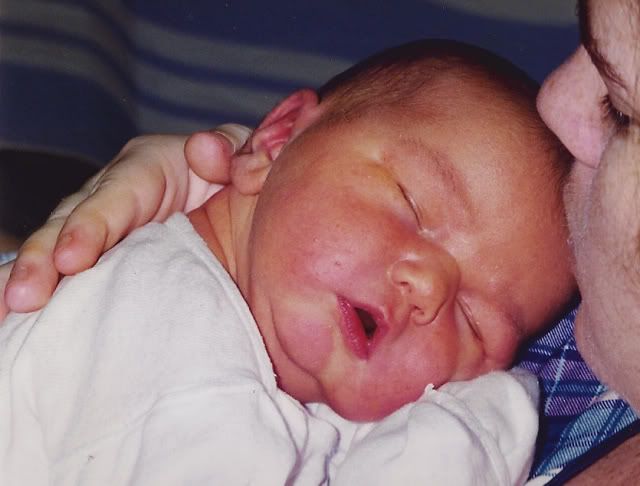 Before we knew it, he had already turned a year, and bypassed the walking stage.  He liked to RUN!  (And yes, of course he liked the Noles even back then!)  He went to his first game in Tally right before his 1st birthday.
We blinked again, and another year flew by.  For his second birthday, we got him an "art desk".  We were constantly trying to find things to keep him occupied in the house (because we lived in upstate NY at the time, and it was FREEZING most of the year).  He loved his art desk, and used it every single day.
Don't worry, I won't bore you with 12 years worth of snapshots!  But here is one more that I really loved (it looks like she is waving at me!).  He was in first grade, and needed a photo of his pet for school.  I insisted that he be in the shot with her too.  Afterall, she has been a part of the family for as long as he has! LOL!
And I have posted recent shots of my boys on my blog, so you know what he looks like now (plus now, he hates having his photo taken!).  He is a big, strong, sweet, caring boy, and I love him to death!  And he would do anything for his momma.  Even let her take ONE quick snapshot of him on his 12th birthday as he was running out the door to school this morning.  LOL!
Happy birthday baby!